Monday 13 September 2021
Publications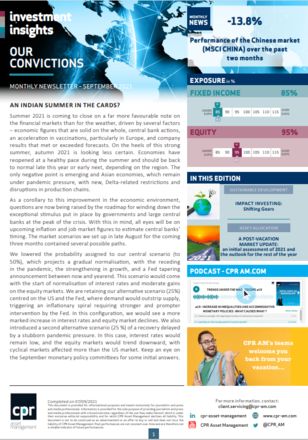 Investment insights - September 2021
Please find below our publication "Investment insights" which will give you our vision of the market and our 3 months scenario.
AN INDIAN SUMMER IN THE CARDS?
Summer 2021 is coming to close on a far more favourable note on the financial markets than for the weather, driven by several factors – economic figures that are solid on the whole, central bank actions, an acceleration in vaccinations, particularly in Europe, and company results that met or exceeded forecasts. On the heels of this strong summer, autumn 2021 is looking less certain. Economies have reopened at a healthy pace during the summer and should be back to normal late this year or early next, depending on the region. The only negative point is emerging and Asian economies, which remain under pandemic pressure, with new, Delta-related restrictions and disruptions in production chains.
As a corollary to this improvement in the economic environment, questions are now being raised by the roadmap for winding down the exceptional stimulus put in place by governments and large central banks at the peak of the crisis. With this in mind, all eyes will be on upcoming inflation and job market figures to estimate central banks' timing. The market scenarios we set up in late August for the coming three months contained several possible paths.
We lowered the probability assigned to our central scenario (to 50%), which projects a gradual normalisation, with the receding in the pandemic, the strengthening in growth, and a Fed tapering announcement between now and yearend. This scenario would come with the start of normalisation of interest rates and moderate gains on the equity markets. We are retaining our alternative scenario (25%) centred on the US and the Fed, where demand would outstrip supply, triggering an inflationary spiral requiring stronger and prompter intervention by the Fed. In this configuration, we would see a more marked increase in interest rates and equity market declines. We also introduced a second alternative scenario (25 %) of a recovery delayed by a stubborn pandemic pressure. In this case, interest rates would remain low, and the equity markets would trend downward, with cyclical markets affected more than the US market. Keep an eye on the September monetary policy committees for some initial answers
ASSET ALLOCATION - A post-vacation market update : an initial assessment of 2021 and the outlook for the rest of the year
SUSTAINABLE DEVELOPMENT - Impact investing: Shifting gears
Overview of our market scenarios as of 27 August 2021
Central Scenario : Gradual normalisation
Scenario 1 : Delayed recovery
Scenario 2 : Faster slowdown in monetary support
Our next publication will be published in october 2021. Our teams are at your disposal for any complimentary information.
Sign up to our newsletter
Follow the latest news from CPR AM in our monthly publication "Investments Insight, our convictions": our market vision, our 3-month scenarios, and many exclusive articles from our experts.
SUBSCRIBE