Wednesday 15 January 2020
Publications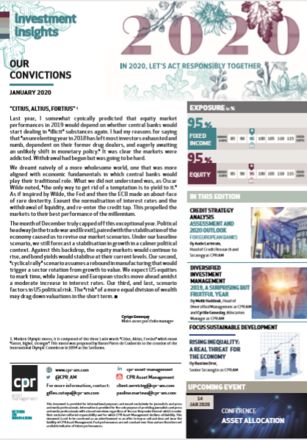 Investment Insights - Our convictions - January 2020
Please find below our, our publication "Investment insights" which will give you our vision of the market and our 3 months scenario.
« CITIUS, ALTIUS, FORTIUS »
Last year, I somewhat cynically predicted that equity market performances in 2019 would depend on whether central banks would start dealing in "illicit" substances again. I had my reasons for saying that "an unrelenting year in 2018 has left most investors exhausted and numb, dependent on their former drug dealers, and eagerly awaiting an unlikely shift in monetary policy." It was clear the markets were addicted. Withdrawal had begun but was going to be hard.
We dreamt naively of a more wholesome world, one that was more aligned with economic fundamentals in which central banks would play their traditional role. What we did not understand was, as Oscar Wilde noted, "the only way to get rid of a temptation is to yield to it." As if inspired by Wilde, the Fed and then the ECB made an about-face of rare dexterity. Exeunt the normalisation of interest rates and the withdrawal of liquidity, and re-enter the credit tap. This propelled the markets to their best performance of the millennium.
The month of December truly capped off this exceptional year. Political headway (in the trade war and Brexit), paired with the stabilisation of the economy caused us to revise our market scenarios. Under our baseline scenario, we still forecast a stabilisation in growth in a calmer political context. Against this backdrop, the equity markets would continue to rise, and bond yields would stabilise at their current levels. Our second, "cyclical rally" scenario assumes a rebound in manufacturing that would trigger a sector rotation from growth to value. We expect US equities to mark time, while Japanese and European stocks move ahead amidst a moderate increase in interest rates. Our third, and last, scenario factors in US political risk. The "risk" of a more equal division of wealth may drag down valuations in the short term.
Cyrille Geneslay Allocation Manager at CPR AM
Credit strategy analysis - Assessment and 2020 outlook for european banks.
By Aude Lerivrain, Head of Credit Research and Strategy at CPR AM
Diversified investment management - 2019 a surprising but fruitful year
By Malik Haddouk, Head of Diversifi ed Management at CPR AM and Cyrille Geneslay, Allocation Manager at CPR AM
Focus sustainable development - rising inequality areal threat for the economy
By Bastien Drut, Senior Strategist at CPR AM
Overview of our market scenarios at the end of December 2019
Central scenario: Receding tensions and renewed confidence in the short term
Alternative 1 scenario: A cyclical rebound
Alternative 2 scenario: A political turn in the US
Our next publication will be published in February 2020. Our teams are at your disposal for any complimentary information.
Contact us
Need more information?
Need more details on how this offering can be subscribed?
Feel free to ask us questions.