Wednesday 15 January 2020
Points experts
Diversified investments management - 2019 a surprising but fruitful year
2019 WAS A SURPRISING, YET FRUITFUL YEAR FOR THE FINANCIAL MARKETS. HOW DO YOU EXPLAIN SUCH A PERFORMANCE BY ALL ASSET CLASSES AMIDST WEAKENING ECONOMIC GROWTH, HEIGHTENED TRADE TENSIONS, AND FALLING CORPORATE PROFIT FORECASTS?
The market context was perfect in late 2019. Not since 1997 had market performances been so positive. Equity markets gained more than 25% on average in all geographical regions. Government bonds were up almost 10% on the year. High yield bonds set new records, and even safe havens like gold fared very well.
Paradoxically, despite the many uncertainties through the year (trade tensions, Brexit, geopolitical risks, social unrest, etc.), market corrections remained quite measured, as did volatility.
The biggest factor in equity performance in 2019 was no doubt on the monetary front. One year ago, the US Federal Reserve was shrinking its balance sheet and had raised its key rates over the past two years, while the ECB was preparing the market for a normalisation of its monetary policy, including a halt in its asset purchases. Spooked by the sharp drop in asset prices in late 2018, the Fed then quickly engineered an about-face, lowering its key rate three times to pre-empt an economic slowdown.
The ECB followed suit, and, for the first time since 2008, there was coordinated action by central banks. This triggered a steep drop in government bond yields and made equities far more attractive, with dividend yields moving back above the risk-free rate.
Equity markets were also driven by record US share buybacks, as the lack of yield on risk-free assets made listed companies a default choice. While the central banks' about-face was the major factor driving the markets in 2019, there were other in the second half of the year, such as the stabilisation of economic activity with the hope for an improvement in economic activity and an easing of political risks.
Equity markets gains and stagnating or declining corporate earnings in 2019 led to re-ratings. Even so, nonUS equity market gains have still been moderate over the past two years, at about 7-10%.
In reaction to market euphoria, we positioned CPR Invest - Reactive cautiously, as political risks took the fore amidst an economic slowdown. Even so, as one third of our equity holdings were in Chinese stocks, we were able to capture most of the gains from February to April.
Our cautious stance paid off when Sino-US trade talks broke down in May. But the market declines didn't last long, as central banks, chastened by the December market collapse, reacted promptly, transforming normalisation into another round of easing. This was all the markets needed to regain in two weeks what they had lost in the previous month. The fund missed out on the rally, of course, as its managers believed that Brexit was getting bogged down, that the global economy was slowing, and that the two superpowers were unwilling to budge. The shocks of August and October had little impact on fund performance.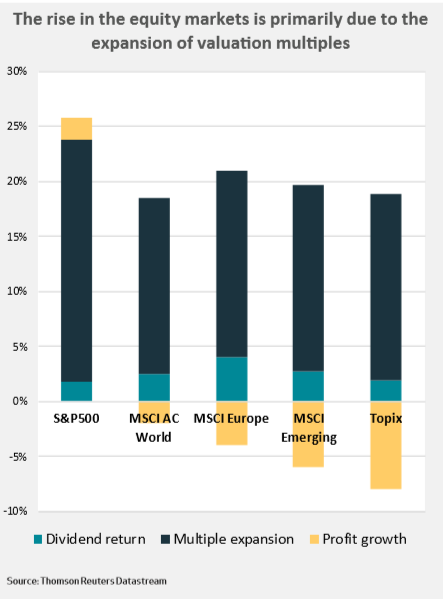 The markets rose, driven by the central banks and share buybacks, but without the assistance of traditional investors. Inflows were low or even negative and the outlook, unpromising. And yet, and yet, the markets kept rallying. We gradually raised our equity exposure. Our wealth-management approach kept us from raising our exposure drastically after a gain of more than 20%.
And yet… not until the announcement of a "Phase 1" agreement between the US and China, combined with Boris Johnson's victory in UK general elections did we surpass 40% equity exposure. On the bond markets, we stuck with our yield bias, overweighting emerging bonds and underweighting European ones.
2020 is shaping up to be an eventful year, with the US elections, the ongoing economic slowdown, Chinese stimulus plans, the Brexit final act, and phase 2 and 3 and even phase 4 agreements, which will deal with the biggest sticking points. We will stay invested at least in the short term, and remain flexible in our strategies.
Find below the full document.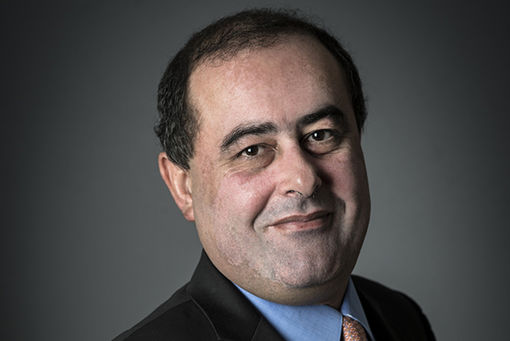 Malik Haddouk,
Head of Diversified Management at CPR AM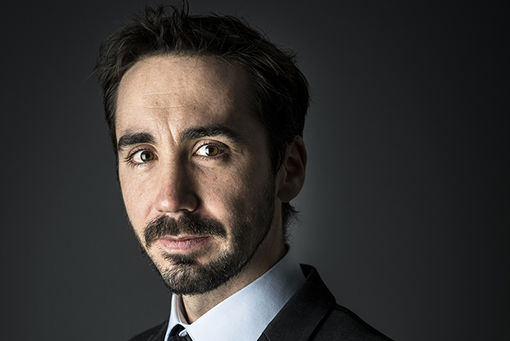 Cyrille Geneslay,
Allocation Manager at CPR AM
Contact us
Need more information?
Need more details on how this offering can be subscribed?
Feel free to ask us questions.