Tuesday 29 June 2021
Points experts
Ageing of the population: China is also being affected
What is the right strategy in international equities?
China is ageing rapidly. Its latest population figures remind us that it's not just in developed countries that populations are getting older. This is truly a global trend.
Laetitia Baldeschi reviews ageing demographics in China and their economic and political consequences.
Nicolas Picard then discusses how CPR AM has seen ageing of the global population as an investment strategy over the past 10-plus years by investing in companies that benefit from seniors' consumption in both developed and emerging markets.
All politicians' eyes are on Chinese demographics
Much has been made of China's seventh census, particularly its postponed release date. This was indeed a surprise to those who are familiar with the punctuality and speed of China's National Bureau of Statistics. What, if anything, should we read into this?
China is being squeezed by an ageing population
China's population continues to grow more slowly. In the decade from 2010 to 2020 it expanded by 5.4%. This works out to an annual pace of +0.53%, down from +0.57% in the previous decade and half the pace seen from 1990 to 2000. The Chinese population is now 1.411 billion.
China's urbanisation rate has risen by 14 points in the past 10 years, and 63.89% of the Chinese population now lives in cities, 40% of which are coastal cities. Some 400 million people living in cities are migrant workers, meaning that they live and work elsewhere than the place mentioned on their hukou (a sort of internal passport needed to access certain services and jobs). This is a 70% increase over the past 10 years, and a decisive factor in assessing China's economic situation. Migrant workers are not covered by official jobs statistics and are known to have been hit hardest by the pandemic. A degraded jobs market means less consumption and, more to the point, increased social instability for the party.
Now let's look at birth data. The birth rate has continued to decline, to a low of 1.3 children per woman in 2020, although all couples have been allowed to have two children since 2016. The birth rate was more than 6 in the 1960s and 1970s. In 2020 alone, the number of births fell by 18%, as the pandemic exacerbated an already existing trend, along with a special feature inherited from the "one-child" policy: 111 boys for every 100 girls! As a result of lower birth rates and longer lifespans, China's population has aged considerably. The median age has risen from 38 to 38.8 years over the past 10 years, with persons older than 65 accounting for 13.5% of the population. China is not the only country facing this demographic challenge. In fact, this is the inevitable result of economic development and greater wealth, but the one-child policy introduced in the early 1980 has exacerbated the trend considerably.
Big consequences for China
Indeed, China's accelerated pace of development was made possible by its abundant workforce. And for several years now, its working population has shrunk in both absolute terms since peaking in 2013 at 1.006 billion, and relative to its entire population, after peaking at 74.5% in 2010. China's workforce will continue to shrink, leading inevitably to weaker potential growth, assuming unchanged productivity.
Since 2011 authorities have reacted and gradually lifted birth restrictions, in 2016 allowing all couples to have two children and, since 31 May 2021, a third. But will that be enough to reverse the trend? It seems doubtful. The "one-child" policy has resulted in a so-called "4-2-1" family structure, meaning that each young adult must now support four grandparents and two parents, while dealing with tight economic constraints, such as housing and education prices, for example. As a result, after a phase of political coercion, China has moved on to upward mobility at any cost, the consequence of which is that couples continue to have just one child.
China's decision to shift its economic model towards domestic demand means focusing more on consumption. This requires either raising wages (which could undermine its competitiveness) or freeing up households' precautionary savings (which amounts to 45% of GDP). Precautionary savings constitute households' social welfare insurance. The authorities are therefore being forced to develop China's social protection system, including a family policy worthy of the name and, most of all, an efficient retirement system to assist its oldest citizens. The Politburo said as much on 31 May, but actual decisions will be needed, along with lots of time. Demographics will clearly remain a politically charged issue in China.
Investing in population ageing with CPR AM through seniors' consumption
A little more than a decade ago, CPR AM teams wanted to launch an investment solution exposed to a structural trend likely to generate growth over the long term.
CPR AM was convinced then that the markets had pockets of outperformance that could be exploited beyond traditional equity strategies. The Silver Economy was one of those.
In 2009, CPR AM therefore launched CPR Silver Age with a European investment universe. This was the market's first equity fund devoted to the ageing of the population and has made CPR AM a first-tier thematic investor.
Silver Age's investment universe goes far beyond medical care and dependence
Behind this underlying trend an entire economic ecosystem has taken shape. The Silver Economy is driven by retirees' purchasing power and consumer spending. Capturing these sources of growth means opening the investment universe to all sectors driven by seniors' consumer spending, in order to reproduce the diversity of Silver Economy players within that universe.
For retirees are not a homogenous group. At the age of 60, in good health and active, they spend much of their money on leisure and well-being and are ensure that their wealth is well-managed in order to pass it down to the next generations. Beyond a certain age, healthcare and dependency make up a large portion of their spending, which is, in turn, driven by a desire for comfort and security.
It's not just Europe that is ageing
Ageing of the population is already far along in Europe and North America, and the trend is spreading rapidly in emerging market countries. By 2050, half of all persons aged 65 and older will live in those countries.
That's why in 2014, we expanded Silver Age to a global universe, calling it Global Silver Age. The Silver Economy is not the same everywhere. Each geographical region has its own sector profile, and that adds even more diversification to the universe and expands the scope of investment opportunities. For example, Europe is focused most on financial savings, North America on dependency, and Asia on leisure.
The Silver Age range: highlights
More than 3 billion euros are managed under the Silver Age stamp (as of the end of May 2021). And this success story goes far beyond France. The fund is widely referenced by distributors. In 2015 a Hong Kong-domiciled version of Global Silver Age was rolled out, followed by a Canadian version in 2016. The strategy also comes in the form of mandates established in Oman and South Korea. Its Luxembourg subfunds are registered in several European countries.
Read the full document below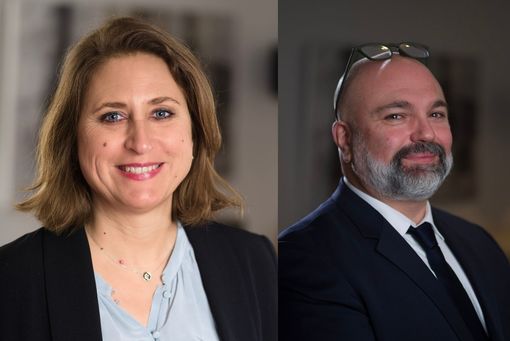 Laetitia Baldeschi
Head of Strategy
Nicolas Picard
Thematic Equities manager