Friday 12 February 2021
Publications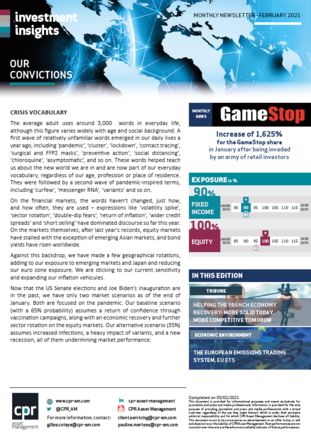 Investment Insights, our convictions - February 2021
Please find below our publication "Investment insights" which will give you our vision of the market and our 3 months scenario.
CRISIS VOCABULARY
The average adult uses around 3,000 words in everyday life, although this figure varies widely with age and social background. A first wave of relatively unfamiliar words emerged in our daily lives a year ago, including 'pandemic', 'cluster', 'lockdown', 'contact tracing', 'surgical and FFP2 masks', 'preventive action', 'social distancing', 'chloroquine', 'asymptomatic', and so on.
These words helped teach us about the new world we are in and are now part of our everyday vocabulary, regardless of our age, profession or place of residence. They were followed by a second wave of pandemic-inspired terms, including 'curfew', 'messenger RNA', 'variants' and so on. On the financial markets, the words haven't changed, just how, and how often, they are used – expressions like 'volatility spike', 'sector rotation', 'double-dip fears', 'return of inflation', 'wider credit spreads' and 'short selling' have dominated discourse so far this year. On the markets themselves, after last year's records, equity markets have stalled with the exception of emerging Asian markets, and bond yields have risen worldwide.
Against this backdrop, we have made a few geographical rotations, adding to our exposure to emerging markets and Japan and reducing our euro zone exposure. We are sticking to our current sensitivity and expanding our inflation vehicules.
Now that the US Senate elections and Joe Biden's inauguration are in the past, we have only two market scenarios as of the end of January. Both are focused on the pandemic. Our baseline scenario (with a 65% probability) assumes a return of confidence through vaccination campaigns, along with an economic recovery and further sector rotation on the equity markets. Our alternative scenario (35%) assumes increased infections, a heavy impact of variants, and a new recession, all of them undermining market performance.
TRIBUNE - Helping the French economy recovery: more solid today, more competitive tomorrow
ECONOMIC ENVIRONMENT - The European Emissions Trading System: EU ETS
Overview of our market scenarios as of 22 January 2021
Central Scenario: Confidence restored by vaccinations. Upturn in consumption and aggressive sector rotation
Alternative Scenario: Aggravation of the pandemic, pending the results of vaccination
Our next publication will be published in March 2021. Our teams are at your disposal for any complimentary information.
Sign up to our newsletter
Follow the latest news from CPR AM in our monthly publication "Investments Insight, our convictions": our market vision, our 3-month scenarios, and many exclusive articles from our experts.
Subscribe