Our offering

CPR Croissance Dynamique
CPR Croissance Dynamique
FLEXIBILITY AND RESPONSIVENESS FOR A STRATEGY THAT CREATES VALUE OVER THE LONG TERM

Active management of asset allocation.
Highly responsive exposure to the various asset classes.
An approach based on strict risk-monitoring rules.
More than 18 years of expertise.
A fund eligible for the French Equity Savings Plan (PEA).
For fund details
Looking for further information ?
Please contact our dedicated team who will address your concerns as quickly as possible.

CPR Croissance Dynamique is an international diversified fonds commun de placement (FCP) invested in both fixed-income products (bonds, money-market) and in equities. The FCP aims to tap into long-term gains on the international markets in a controlled risk framework. Its recommended investment horizon is at least five years. This fund is eligible for the French Equity Savings Plan (PEA).

RESPONSIVE INVESTMENT MANAGEMENT TO TAP INTO THE BEST OPPORTUNITIES
CPR Croissance Dynamique is based on a simple approach:
Identifying the most attractive asset classes based on the managers' economic expectations.
Setting the optimum exposure to each identified asset classes, in order to tap into market gains but also to limit losses during market downturns.
The philosophy is based on risk control as well as asset allocation as a source of added value. For this purpose, the managers are backed by a quantitative model developed by CPR Asset Management since 1996.
CPR AM : ONE-OF-A-KIND KNOW-HOW, EXPERIENCED SPECIALISTS
29 MANAGER / ANALYSTS, 7 RESEARCH ENGINEERS, 3 STRATEGISTS / ECONOMISTS.

INVESTMENT UNIVERSE: A GLOBAL PLAYGROUND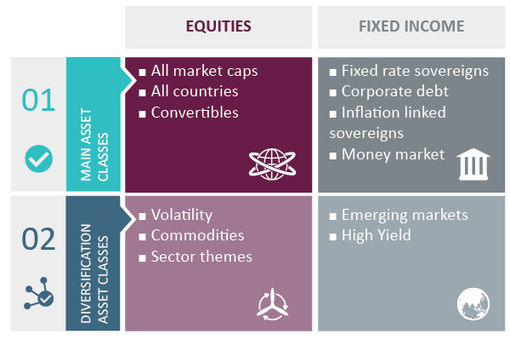 CPR Croissance Dynamique has the option of gaining exposure to all asset classes and all geographical regions. Its investment universe is composed of more than 40 asset classes that represent the main international equity and fixed-income markets (Europe, United States, emerging markets).
The fund aims to meet the needs of investors seeking positive returns over the recommended investment horizon with a risk profile comparable to its benchmark (80% JPM World hedged and 20% MSCI World in euros).

The last decade has been marked by several market crises. Since mid-2007, we have experienced sharp volatility that has resulted in shifts of an extreme extent and speed. In such an environment, you have to be quick on your feet to exploit these fluctuations.
Unlike a 100% equity fund, the CPR Croissance Dynamique manages risk better. During market slumps the allocation may shift heavily from the riskiest assets to defensive securities like corporate or government bonds, for example.
The fund's exposure to the riskiest assets is highly flexible, ranging from 50% to 100% of total assets.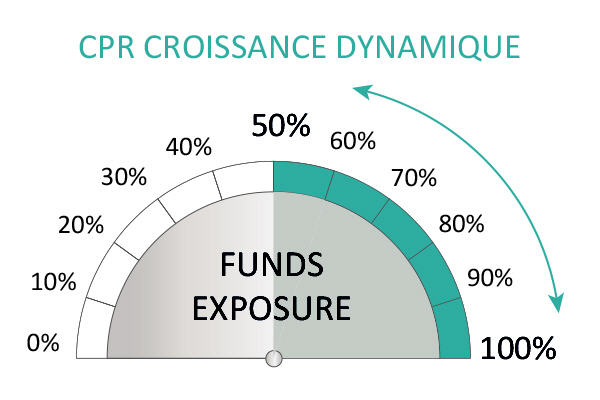 43
Number of asset classes used
17 years
An investment management process that has proven itself over the long term
2,3 bn
euros under management*

AN AWARD WINNING STRATEGY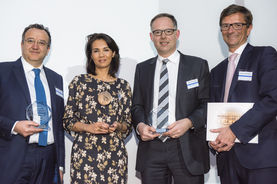 THE EUROPEAN FUNDS TROPHY 2016
At the European Funds Trophy, CPR AM was named Best French Asset Management Company in the 41 to 70 rated funds category for the 2nd consecutive year. The Ceremony was held on March 8th in the Automobile Club of France in Paris.
LES CORBEILLES 2016 MIEUX VIVRE VOTRE ARGENT
On the 19th September, CPR AM was awarded the "certificate for the best balanced strategy over 5 years" with the perfect grade of 20/20, at the Corbeilles – Mieux vivre votre argent.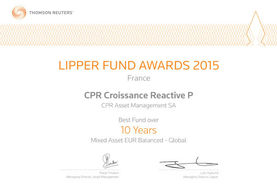 LIPPER FUND AWARDS FRANCE 2016
CPR Croissance Réactive - P and CPR Croissance Dynamique - P awarded: 4 Lipper Fund Awards certificates

Keep an eye on
Risk of loss of capital.
No guaranteed performance.
Recommended investment horizon: at least five years
The selection of investments is not necessarily made up of the best-performing assets available, due to the managers' expectations.
The fund/subfund are exposed mainly to counterparty risks in the event of issuer default.
The fund may exhibit high levels of volatility due to the composition of the portfolio or the applied management techniques, which means that the share values may be subject to major upward and downward fluctuations within a short period of time.
Indicateur de risque
At higher risk,
At lower risk,
Typically lower reward
Typically higher reward