Friday 14 June 2019
Publications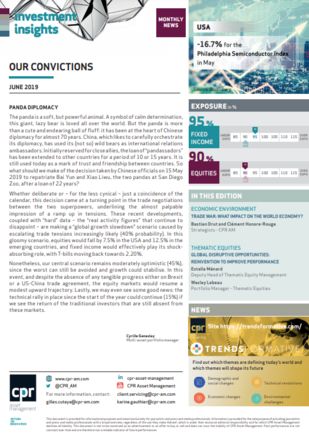 Investment Insights, Our Convictions
Please find below our, our publication "Investment insights" which will give you our vision of the market and our 3 months scenario.
EDITORIAL: Panda Diplomacy
The panda is a soft, but powerful animal. A symbol of calm determination, this giant, lazy bear is loved the world over. But the panda is more than a cute and endearing ball of fluff: it has been at the heart of Chinese diplomacy for almost 70 years. China, which likes to carefully orchestrate its diplomacy, has used its (not so) wild bears as international relations ambassadors. Initially reserved for close allies, the loan of "pandassadors" has been extended to other countries for a period of 10 or 15 years. It is still used today as a mark of trust and friendship between countries. So what should we make of the decision taken by Chinese officials on 15 May 2019 to repatriate Bai Yun and Xiao Liwu, the two pandas at San Diego Zoo, after a loan of 22 years?
Whether deliberate or – for the less cynical – just a coincidence of the calendar, this decision came at a turning point in the trade negotiations between the two superpowers, underlining the almost palpable impression of a ramp up in tensions. These recent developments, coupled with "hard" data – the "real activity figures" that continue to disappoint – are making a "global growth slowdown" scenario caused by escalating trade tensions increasingly likely (40% probability). In this gloomy scenario, equities would fall by 7.5% in the USA and 12.5% in the emerging countries, and fixed income would effectively play its shock-absorbing role, with T-bills moving back towards 2.20%. Nonetheless, our central scenario remains moderately optimistic (45%), since the worst can still be avoided and growth could stabilise. In this event, and despite the absence of any tangible progress either on Brexit or a US-China trade agreement, the equity markets would resume a modest upward trajectory. Lastly, we may even see some good news: the technical rally in place since the start of the year could continue (15%) if we see the return of the traditional investors that are still absent from these markets.
Cyrille Geneslay, Multi-asset portfolio manager
Economic Environment - Trade War : What impact on the economy?
By Bastien Drut and Clément Honore-Rouge, Strategists at CPR AM
Thematic Equities - Global Disruptive Opportunities : Reinvention to improve performance
By Estelle Ménard, Deputy Head of Global Thematic Equities and Wesley Lebeau, Thematic Equity Portfolio Manager
Overview of our market scenarios at the end of June 2019
Central Scenario: Macroeconomic stabilisation
1st Alternative Scenario: Global macroeconomic slowdown
2nd Alternative Scenario: Continued technical growth
Our next publication will be published in July 2019. Our teams are at your disposal for any complimentary information.
Contact us
Need more information?
Need more details on how this offering can be subscribed?
Feel free to ask us questions.