Thursday 13 January 2022
Expert updates
Gold & Mines – 2022: a year of significant change?
This new year promises to be eventful for all the markets, and no doubt also for gold and gold-mining stocks…
It began with the publication on 5 January of the minutes of the December FOMC meeting, but although this depressed prices, there was no tsunami on the gold market. This was in spite of the very hawkish tone, conjuring the possibility of faster than expected monetary tightening, accelerated tapering, and even the shrinking of the Fed's balance sheet. It might be assumed that the disappointing performance by the gold and gold-mining theme in 2021 already reflected the expectation of an upcoming change in the Fed's tone. In the meantime, the forthcoming change in US real rates will be key in 2022.
Contrary to the global markets, which ended the year at record levels, 2021 was not, in fact, a great vintage for the theme. Remember, however, that 2020 was the best year for the gold industry since 2010. This consolidation is therefore not shocking in itself. Ultimately, gold prices ($) saw out the year down 3.44%, while gold-mining stocks (NYSE Arca Gold Miners NTR) were down 9.37%, resulting in a gold miner to gold price leverage ratio of -2.7x.
This was an orderly consolidation, underlining the continued interest in this asset class, despite the almost complete lack of risk aversion on the part of investors throughout 2021, as highlighted by the fact that the waves of consolidation on the equity markets were as short as they were moderate.
Although US real rates stayed in very negative terrain, which should have been a considerable support factor for gold, allowing it to once again test the summer 2020 peak of $2075/oz, the US dollar's strength dampened the trend.
The inflation debate has rarely been so heated in recent years as in 2021. The word stagflation has made an increasingly frequent appearance in Google searches, in connection with the growth outlook. Should stagflation conditions materialise it would unarguably be the ideal scenario for gold.
This is not at all the current market consensus though, which instead expects the normalisation of inflation, along with the Fed's monetary policy. As the year gets off to a start, the consensus forecast is average gold prices of $1716/oz in 2022, versus $1798/oz in 2021.
In terms of flows, 2021 was forgettable, especially when it came to gold-backed ETFs. Net sales totalled the equivalent of 287 tonnes for the full year, i.e., the largest outflows since 2013, and total assets slumped to their lowest point since May 2020.
In such an environment, cryptocurrencies, and particularly Bitcoin, warrant a mention. While safe haven would be an inappropriate descriptor, given its very high volatility (100-day average of 57%, versus 13% for gold), it could more credibly be described as a diversifying asset.
Goldman Sachs has recently published a report that estimates Bitcoin's float-adjusted market capitalisation at a little under $700 billion. This amounts to a 20% share of the "store of value" market comprised of gold and Bitcoin, the value of the gold available for investment being estimated at $2.6 trillion. This market share has continuously grown in recent years, eroding the share held by gold. Bitcoin is also not the only cryptocurrency that now has a higher global market capitalisation than gold…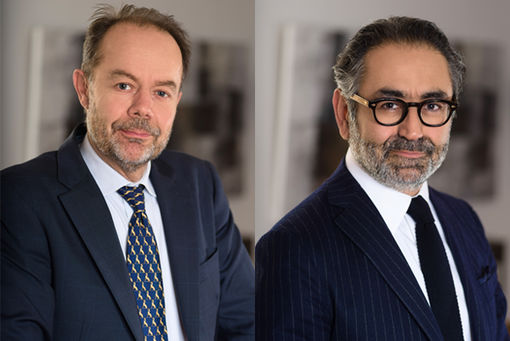 Arnaud du Plessis
Thematic Equities Portfolio Manager and gold and natural resources specialist
Vafa Ahmadi
Head of Global Thematic Equities