Thursday 11 July 2019
Points experts
Another look at the US labor market
While US economic growth is slowing, the labor market is receiving even more attention than usual. In particular, the June job report was eagerly awaited by the financial markets because bad figures would have reinforced the idea of a Fed rate cut as early as July. Non-farm job creations in June were finally well above expectations: +224,000 vs. +160,000 expected and +72,000 in May. However, as we will see in the following, several other indicators point to the fact that the US labor market is reaching an inflection point.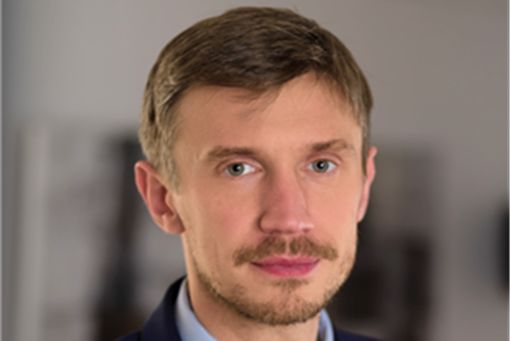 Bastien Drut
Senior Strategist at CPR AM
Wages no longer increased or even decreased.
On a year-over-year basis, average wages were up 3.1% in June, the lowest figure since September. In surveys, fewer companies indicate that they want to increase compensations in the coming months.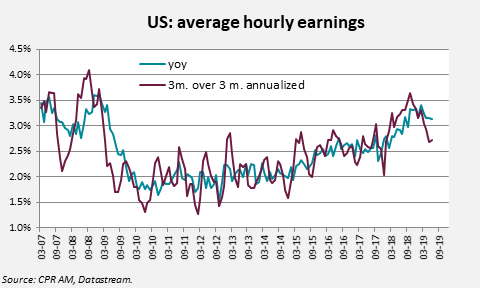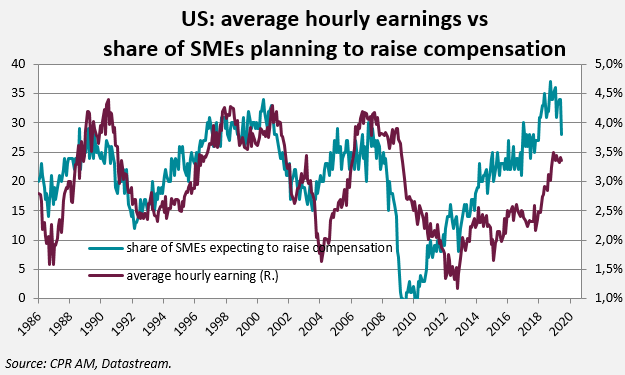 The aggregate number of hours worked is clearly slowing down.
In 3 months over 3 months, the increase in hours worked was even negative in June, which is rarely observed outside the recession and is therefore to be followed.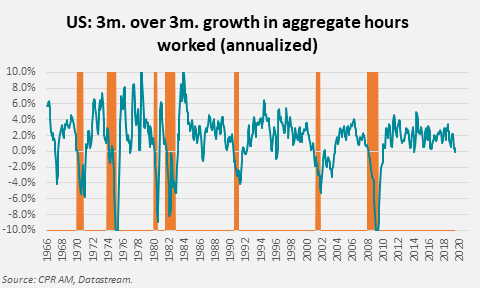 In recent months, there has been a contraction in employment for the "prime age" category.
That is, the 25-54 age group, which is supposed to represent the core of the labor force. One might think that this is due to the aging of the population (with an increase in the number of people crossing the age of 54) but the employment ratio (ratio of people working on total population) of the 25-54 age group has decreased (a little) in 2019. On the last cycle, the drop in the prime-age employment ratio started in January 2007.
*Ratio of people working, to the total population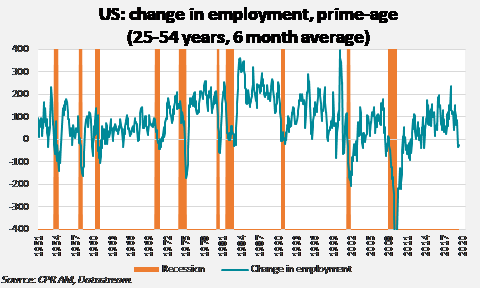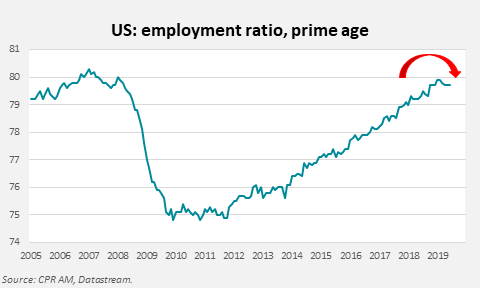 There is now a clear trend of job destruction in California and New York.
There is also a halt to job growth in Florida. On the other hand, employment is still growing steadily in Texas. Over the last 3 months, employment has contracted in 16 states, which has not been seen for more than five years and is very high outside the recession period.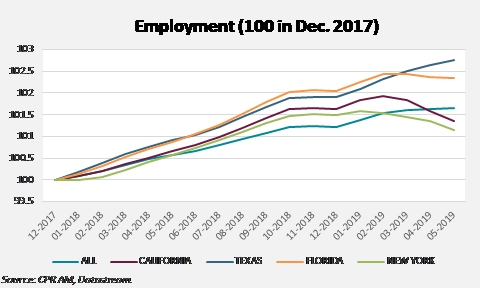 The number of people reporting more than one job increased by 301,000 in June.
One of the possible causes may be that the less well-off households are forced to find a second job to make ends meet (recently, the confidence of the low-income households measured by the Conference Board has collapsed). Such an increase had been observed in the months preceding the fall of Lehman Brothers (while the United States was already in recession).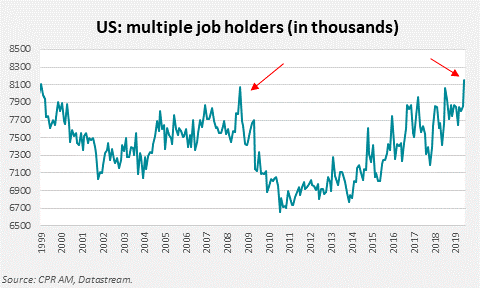 To conclude, even though the June employment report was a welcome surprise "on the face", the reality is less encouraging and there are indications that the labor market is reaching an inflection point.
By Bastien Drut - Senior Strategist at CPR AM
Please find attached the full article below.
Contact us
Need more information?
Need more details on how this offering can be subscribed?
Feel free to ask us questions.