Friday 05 July 2019
Points experts
Climate Change : Chat does it mean for insurers?
Climate Change has become a big topic for insurers
The February 2019 edition of the emerging risk barometer designed by the FFA (French Federation of InsuranceCompanies) shows that insurers consider global warming to be the 2nd-biggest risk for the next 5 years. European insurers may be less exposed to this risk than their US peers or reinsurers, but climate change remains a major issue for the insurance industry, especially as it affectsits liabilities and assets alike. The ACPR (Autorité de Contrôle Prudentiel et de Résolution)1 says 55% of the French insurers that responded to its survey on "French insurers facing climate change risk" have an internal definition of climate risk and 60% have a climate risk analysis process for some or all of their assets and/or liabilities. Most French insurers have adopted the 3 broad risk categories defi ned by the Governor of the Bank of England, Mark Carney, in a speech given in 2015 on "Breaking the Tragedy of the Horizon": physical risks, transition risks and liability risks.
On the liability side, insurers are affected directly by the physical risks and increased cost of claims resulting from climate change. This of course includes major disasters such as storms and hurricanes; however, we must not forget the less spectacular but more frequent floodsand episodes of severe drought that often hit European countries. Aon's 2018 report entitled "Weather, Climate &Catastrophe" is very revealing: the average cost of each weather event over the past 10 years amounted to €213 billion compared with €180 billion for the period spanning 1980-2017. The economic cost of weather events in the Europe-Africa region totalled $34 billion in 2018, only $10billion of which was covered by insurance.
A lot of questions are being raised because of the increased frequency of such disasters but also their increased cost. First of all, there is the question of how to assess climate risks so that insurance cover can be priced appropriately and to secure the insurance industry's long-term viability. When it comes to assessing an insurer's exposure toclimate risk, therefore, it is essential to factor in the geographical location of the businesses and individuals itinsures. Geographers, meteorologists and climatologists might have to work closely with actuaries to help fine-tunesuch risk assessments. US and Canadian insurers have joined forces to set up an Actuaries Climate Index (ACI),the purpose of which is to provide an objective indicatorof the frequency of extreme weather events with the aim of pricing insurance cover or diversifying a commitment portfolio. Depending on the user's requirements, the index can be broken down by region or by type of event.
Climate change also raises the question of how to encourage the public authorities and insurers toprevent and protect against climate change so that risk management can be improved. It is particularly important to spread out losses between the private and public sectors. In France, the natural catastrophes regime is jointly financed by the farming industry and the public authorities. Other types of aid have been introduced across Europe through the European Agricultural Fund for Rural Development (EAFRD), which helps to compensate farmers for economic losses resulting from environmental incidents above a certain amount. Last of all, there is the question of the insurability of certain risks, as the cost of insurance may be prohibitive for policyholders while claims may prove too costly for insurers. A Ministry of Agriculture report from 2017 says just 26% of cultivatedarea is covered by comprehensive climate risk insurance and 35% by crop hail insurance. Climate contingencies cost at least €1.5 billion per year, i.e. between 2% and 3%of the annual value of France's agricultural output. The FFA estimates that claims resulting from Hurricane Irma, the costliest natural disaster ever in the history of French insurance, cost on average about 75,000 euros!
Climate change is a big issue for property and casualty insurers due to the physical risks it poses, but it also affects life insurers because of its impact on the healthand mortality of policy holders.
Insurers are factoring Climate Change into their investments
The ACPR reckons that insurers face similar issues as banks or asset managers when it comes to incorporating climate change risks into their investment policies. French insurers invest only marginally in countries facing a physical risk (less than 1% of their investments). However, the ACPR estimates that 10% of investments made by French insurers are in industries exposed to risks relating to the transition to a low-carbon economy.
Insurers began incorporating climate risk into thei rbalance sheet assets by taking non-financial and ESG criteria into account when selecting their investments.This may have prompted them to withdraw investments from certain industries that emit particularly large amounts of greenhouse gases (transport, energy,building, etc.). Some 97% of the insurers that responded to the ACPR survey now use ESG ratings.
They then also incorporated transition risks and liability risks for certain companies exposed to climate change or involved in global warming. Risk assessment is today a more precise science, and most insurers (81%) assess the climate risk of investments they make with respect totheir carbon footprint.
The next step will be for banks and insurers to support efforts to finance the transition to a low-carbon economy. Investments by European insurers totalled €10,226 billionat end-2018 (source EIOPA3), i.e. around 64% of Europe'sGDP. The insurance industry therefore has a major role toplay in financing the climate transition.
Regulations currently governing the financial industrydo not encourage it to invest in efforts to tackle climate change.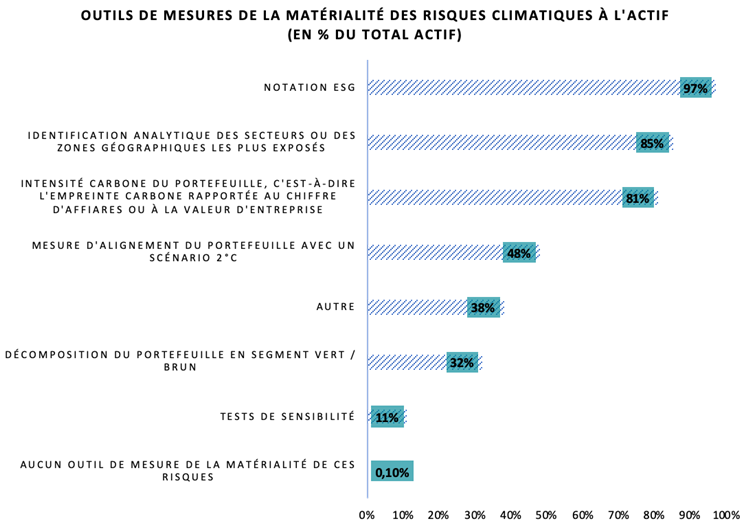 The ACPR points out that governance of climate change risks has improved greatly in recent years, driven largely by regulations. However, although most insurers have internal tools in place to measure and report on their climate risk exposure based on past measurements, too few of them have adopted forward-looking models to assess the impact of climate change on their balance sheets in the future.
Regulations are on their way...
In France, the first development on the regulatory front came with article 173 of the 2015 Energy Transition Act, forcing institutional investors and asset managers to be transparent about their investment policies and climate risk management processes since 2017.Central banks are becoming increasingly involved andactive in tackling climate change. Back in 2015, MarkCarney, Governor of the Bank of England, warned investors about the potential losses that could result from global warming in his speech on "Breaking the Tragedy of the Horizon" (referring to the fact that climate risks cover a longer-term horizon than the investment horizons of most financial operators).
During the One Planet Summit held in December 2017, the Bank of France launched the NGFS (Network for Greeningthe Financial System), the aim of which is to develop and spread best practices in the governance and management of climate risks, and to define the role that central banks and supervisory authorities can play in financing the energy transition.
Benoît Coeuré, a member of the ECB's Executive Board, already mentioned reforming collateral rules in late 2018, and François Villeroy de Galhau, Governor of the Bank of France, recently used the expression "we are at war" to describe efforts to tackle climate change andalso referred to plans to reform collateral rules. The aim would be to incorporate climate risk into valuations of collateral assets, with the distinction between "green"and "brown" assets potentially taken from the European Commission's proposed green taxonomy. Note that this taxonomy applies to business activities, hence the need for companies to report accordingly. The Governor of the Bank of France has also suggested incorporating climate risk into economic forecasting models, noting that globalwarming could slash 10% off the world's GDP by 2100 unless greenhouse gas emissions are brought undercontrol, according to the OECD.
As far as investment funds are concerned, different labels exist to distinguish the "greenest" investments, such as the French TEEC/Greenfin label. They refer primarily to restrictions on certain industries like coal (which many investors already apply), nuclear energy, fossil fuels, etc.
As regards the insurance industry, the aim of the Solvency 2 Directive is to help insurance companies assess and manage the whole range of risks they face more effectively, be it on the liability side or the assetside. So it ought to factor in climate risks! The EIOPA hasbeen examining the issue for several months now and recently launched a consultation to incorporate so-called sustainability (ESG and climate) risks into Solvency 2. The consultation includes an initial technical proposal draftedfrom a review of the data collected in early 2019 from over 150 insurance companies. It also includes a very detailed list of questions about how to actually incorporate ESG and climate risks into Solvency 2 via an assessmentof assets and liabilities, the establishment of ORSA risk scenarios, investment policies and cost of capital calculations, especially for the catastrophe risk and market risk modules of the standard formula and internal models. The European Commission expects the EIOPA to deliver its final opinion on how to factor in these elements by late September 2019 as part of its ongoing sustainable finance action plan.
Expectations are particularly high where governance is concerned. Just as the ACPR had said it was disappointed with the first ORSA exercises, it mentions in its study that the climate risk management strategy needs to be defined more precisely. For instance, it recommends adopting quantified targets or targets expressed in relation to the national low-carbon strategy or those set by the Paris Agreement, so that measures taken can be monitored along with their effectiveness over time. It also mentions that carbon footprint and claim-to-premium ratios arevery useful measurements when assessing risk but that they are inadequate to develop forward-looking models.
There might be doubts about whether the resources allocated to climate risk management will be on a par with those put towards implementing Solvency 2… The ACPR survey shows that this is by no means the case today as very limited human resources are dedicated to managing climate risks and 36% of insurers say they do not have any specially dedicated staff at all!
Date of publication : 5 July 2019
... Find the complete article below :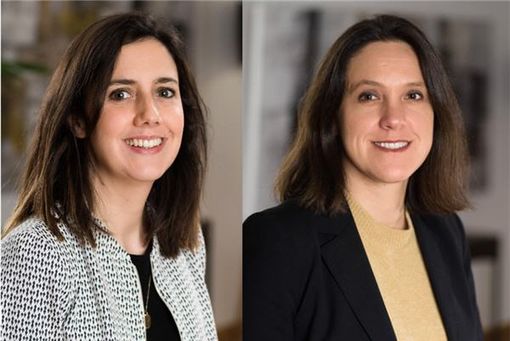 Noémie Hadjadj-Gomes, Deputy Head of Research, and Juliette Cohen, Strategist at CPR AM
Contact us
Need more information?
Need more details on how this offering can be subscribed?
Feel free to ask us questions.