CPR Invest - Global Lifestyles
Surfing on long term consumption trends
Consumption theme is led by three main societal evolutions
Dynamics are global but also specific to geographical areas
Companies capitalizing on consumption trends
For fund details
Looking for further information ?
Please contact our dedicated team who will address your concerns as quickly as possible.

In brief
1. Consumption theme is led by three main societal evolutions
Consumption trends benefits from the evolution of:
Demography (e.g . increasing ageing of the population, Millennials purchasing power
Society: desire for a healthier life, a more sustainable consumption
Digital: digitization of the economy.
We thus identified 4 main current consumption trends: digital tools, health / well being, leisure & premium
2. Dynamics are global but also specific to geographical areas
The consumption theme benefits from the evolution of behaviours.
These changes occur in both developed and developing countries but with some discrepancies. If the access to famous trademarks is to be noted in developing countries, customers are searching for new experiences and a new way of consumption in developed countries.
3. Companies capitalizing on consumption trends
Companies in the investment universe are linked to all forms of consumption. Most are also distributing their product & services directly to the customers.
The innovation and/or differentiation capacities through services help showing a growth superior to the global economic growth.

Investment Process
The objective is to outperform the MSCI World (dividend reinvested) index over a long term period (minimum of five years) by investing in international equities involved in the consumption related to individual self fulfillment and well being.
The investment universe is wide and multisector. The spectrum revolves around 4 axes:
Digital practical tools: e commerce, virtual payment means, etc.
Health & well being: sports, cosmetics, etc.
Leisure (indoor & outdoor): streaming services, DIY, restaurants, travels, etc.
Premium consumption: luxury, automotive, hostels, etc.
A geographical and sector preference can be decided, depending on economic context and on specific sectors indicators such as tourism flows.
Our analysis includes a fundamental approach based on:
Qualitative criteria such as the attractiveness of the market in which the company is set or geographical exposure;
Quantitative criteria such as valuation or cost effectiveness analysis.
Within each sector, a particular attention is given to the proper strategic outlook of each company management. The investment team is meeting about 100 companies each year to this end.
The final portfolio, including 60 to 100 values, is built on the basis of the management team conviction level.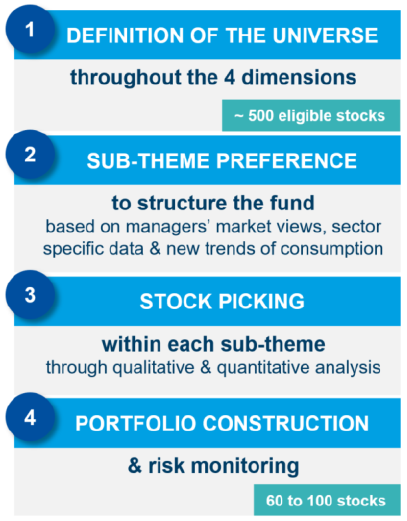 Keep an eye on
Risk of loss of capital.
No guaranteed performance.
Equity risk, incl. emerging markets
Credit & interest rate risk
Currency risk, incl. emerging countries
Risk indicator
At higher risk,
At lower risk,
Typically lower reward
Typically higher reward