CPR Invest Food For Generations
FROM FARMS TO FORKS,
SUSTAINABLY
A contemporary theme driven by long-term trends
Growth engines throughout the food value chain
A sustainable approach to meet the global food challenge
For fund details
Looking for further information ?
Please contact our dedicated team who will address your concerns as quickly as possible.
In brief
CPR Invest – Food For Generations aims to get exposure to the multiple growth drivers throughout the global food value chain. It relies on a sustainable approach, thus offering an investment solution that contributes to the great challenge of feeding the world population and preserving resources.
Its objective is to outperform global equity markets over a long-term period (minimum of five years) by investing in international equities involved in the entire food value chain.

Annual Impact Report - Food For Generations
Produce more, better and sustainably… this is the major challenge faced by our planet: feeding a growing population while mitigating the environmental impact of food consumption and production. It is based on all these challenges and with the objective of contributing to the heavy investments required for the transition towards a more sustainable agri-food model that the Food For Generations fund was launched on September 2017. To this end, our impact philosophy has been incorporated all along the different stages composing the fund's investment process, from the definition of the initial universe to the implementation of impact objectives in the management of the portfolio.
We invite you to explore the first edition of Food For Generation's impact report and discover its complete sustainable approach, illustrated with concrete examples of the impact generated indirectly by our investments, and directly from the engagement commitments with companies.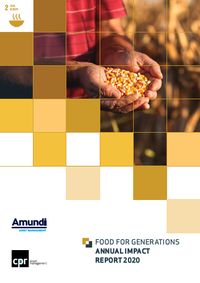 THE FOOD CHAIN THEME: TODAY'S CHALLENGE FOR TOMORROW
9.7 billion, that's the number of human beings expected to be on earth in 2050 (Source : United Nations) all of whom will have to be fed. The combined effects of contemporary megatrends such as demographic growth, rise in incomes and urbanisation, will trigger powerful growth engines stimulating all players in the food value chain.
The challenge of feeding mankind is all the greater because the necessary resources are far from infinite. It calls for a commitment to resource preservation, respect for human rights, and generalisation of healthier food. A challenge as urgent as it is exciting.

A UNIQUE APPROACH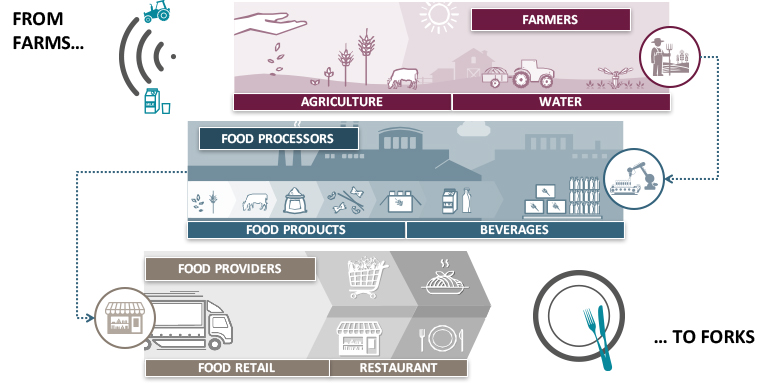 To tap into the theme's full growth potential, CPR Invest - Food For Generations invests in all food-related industries divided in 6 sectors. Such a multisector approach goes along with the implementation of environmental, social and governance criteria to exclude companies with the worst behaviours and controversies [1] .
[1] Worst graded stocks on the basis of ESG risk metrics provided by Amundi ESG analysts and 2 external providers

AN ACTIVE, CONVICTION-BASED MANAGEMENT
A monthly committee identifies the companies to be excluded from the investment universe which goes down to about 550 stocks. The management team then combines a dynamic top-down sector allocation with a thorough bottom-up stock selection to build a portfolio of about 60 lines expressing the managers' strongest convictions.

550
Number of stocks within the investment universe, past exclusions of worst behaviours and controversies
6
Number of identified sectors within the food value chain
60
Number of stocks within the portfolio

Keep an eye on
Risk of capital loss.
No guaranteed returns.
Recommended investment horizon: at least five years.
Shifts in equity prices may have a negative impact on the fund's net asset value
Currency risk not being systematically hedged for the part of investments that is made outside the Eurozone, a decline in the exchange rate can lead to a loss of value
The investment theme is characterized by its sector choices, when financial markets are driven by other non-related sectors, the fund may not benefit from the market growth.
The fund may exhibit high levels of volatility due to the composition of the portfolio or the applied management techniques, which means that the share values may be subject to major upward and downward fluctuations within a short period of time
Risk indicator
At higher risk,
At lower risk,
Typically lower reward
Typically higher reward