CPR Euro High Dividend
HIGH-DIVIDEND EURO ZONE EQUITIES

An innovative approach to detecting high-dividend companies
A footprint in all sectors and in all euro zone countries
A diversification investment that is especially well suited to a low-interest-rate environment
For fund details
Looking for further information ?
Please contact our dedicated team who will address your concerns as quickly as possible.
In brief
Dividends remunerate a company's shareholders; they are generally paid out of the net earnings of each financial year. Its amount of which is set by shareholders at the annual general meeting.
CPR Euro High Dividend is a euro zone equity fund that invests in high-dividend shares.
It aims to outperform the euro zone equity markets over an eight-year minimum recommended investment horizon by selecting European companies that pay out a dividend that is higher than the market average.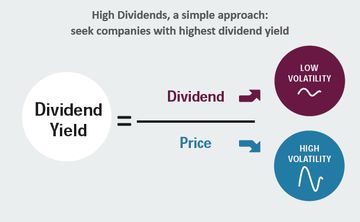 CPR Euro High Dividend offers no guarantee of principal or of performance.

A PROMISING INVESTMENT THEME
The dividend theme offers structural and temporary advantages that make it pay off over the long term:

| | | |
| --- | --- | --- |
| Companies' dividends are historically more stable than their earnings. | With solid balance sheets and heavy market shares, these companies deliver constant and steady dividend. | This type of stock offers yields that are generally higher than government bonds yields. |

AN ABUNDENT INVESTMENT UNIVERSE
The abundance of the universe is characterised by its sector diversification – all sectors of activity are included despite some structural biases. For example, the utilities sector is more heavily weighted than a sector like healthcare.

500
Number of stocks in the investment universe
85
Number of stocks in the portfolio
260
euros under management* (CPR AM data as of end-February 2018)

AN ORIGINAL SELECTION OF STOCKS
To better play the high-dividend theme, the CPR AM management team uses a very original method having a dual objective:
To maximise the dividend within a controlled risk framework;
To outperform its benchmark, the MSCI EMU (an index representing euro zone equity markets).
Backed by CPR AM's equity management process, the managers make a two-tiered valuation of a company's dividend – using market indications and using their own research model. This first stage short-lists 150 stocks having the best expected yields.
A second stage aims to use a quality filter to screen in the most solid stocks offering a sustainable dividend. This accounting filter assesses the quality of a company's accounts.

Keep an eye on
Risk of loss of principal.
The fund are mainly exposed to counterparty risks in the form of issuer default.
A selection of investments may not necessarily be the best-performing of the available assets, due to the managers' expectations.
Recommended investment horizon: at least 8 years
No guaranteed performance.
The fund may exhibit high levels of volatility due to the composition of the portfolio or the applied management techniques, which means that the share values may be subject to major upward and downward fluctuations within a short period of time
Risk Indicator
At higher risk,
At lower risk,
Typically lower reward
Typically higher reward