Tuesday 12 October 2021
Publications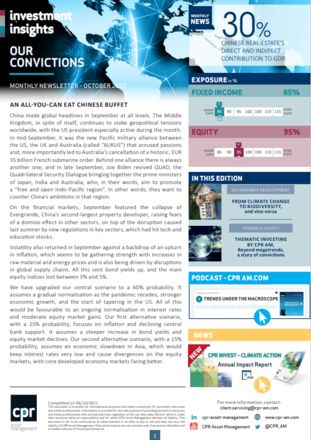 Investment insights - October 2021
Please find below our publication "Investment insights" which will give you our vision of the market and our 3 months scenario.
AN ALL-YOU-CAN EAT CHINESE BUFFET
China made global headlines in September at all levels. The Middle Kingdom, in spite of itself, continues to stoke geopolitical tensions worldwide, with the US president especially active during the month. In mid-September, it was the new Pacific military alliance between the US, the UK and Australia (called "AUKUS") that aroused passions and, more importantly led to Australia's cancellation of a historic, EUR 35 billion French submarine order. Behind one alliance there is always another one, and in late September, Joe Biden revived QUAD, the Quadrilateral Security Dialogue bringing together the prime ministers of Japan, India and Australia, who, in their words, aim to promote a "free and open Indo-Pacific region". In other words, they want to counter China's ambitions in that region.
On the financial markets, September featured the collapse of Evergrande, China's second-largest property developer, raising fears of a domino effect in other sectors, on top of the disruption caused last summer by new regulations in key sectors, which had hit tech and education stocks.
Volatility also returned in September against a backdrop of an upturn in inflation, which seems to be gathering strength with increases in raw material and energy prices and is also being driven by disruptions in global supply chains. All this sent bond yields up, and the main equity indices lost between 3% and 5%.
We have upgraded our central scenario to a 60% probability. It assumes a gradual normalisation as the pandemic recedes, stronger economic growth, and the start of tapering in the US. All of this would be favourable to an ongoing normalisation in interest rates and moderate equity market gains. Our first alternative scenario, with a 25% probability, focuses on inflation and declining central bank support. It assumes a steeper increase in bond yields and equity market declines. Our second alternative scenario, with a 15% probability, assumes an economic slowdown in Asia, which would keep interest rates very low and cause divergences on the equity markets, with core developed economy markets faring better.
SUSTAINABLE DEVELOPMENT - From climate change to biodiversity and vice-versa
THEMATIC EQUITY - Thematic investing by CPR AM, beyond megatrends, a story of convictions
Overview of our market scenarios as of 24 September 2021
Central Scenario : Gradual normalisation
Alternative scenario 1 : More inflation, less central bank support
Alternative scenario 2 : More marked slowdown in Asia
Our next publication will be published in november 2021. Our teams are at your disposal for any complimentary information.
Sign up to our newsletter
Follow the latest news from CPR AM in our monthly publication "Investments Insight, our convictions": our market vision, our 3-month scenarios, and many exclusive articles from our experts.